Welcome to Heritage Heraldry by Vienna Forrester. I specialise in hand-painted heraldic art, logo design and badges for organisations and individuals. You can find examples of my work in the gallery pages of this website. Examples of my other art disciplines are available to view via the Vienna Forrester Portal.
By way of introduction to my heraldry work and of the origins of heraldry, here is a very brief history of...
The Coat of Arms
The art of heraldry originated to distinguish friend from foe on the battlefield. The striking designs and bold colours made the wearer instantly recognisable at a time when most people were illiterate.
Nowadays heraldry is still with us, and its language, called 'Blazon', allows heraldic artists to paint a coat of arms or any heraldic device without the need to refer to any illustrations.
A bizarre mix of Latin, French and English, records of all coats of arms granted were, and still are, to this day, written in Blazon.
I complete all orders personally, from the initial translation of Blazon to pencil sketch, painting by hand in gouache, to the final inking in of detail and matting up of the finished artwork.
How A Coat of Arms takes Shape
The standard size, including mat (mount), is 28 x 35 cm. Other sizes are available on request, as is a choice of pale or medium parchment card.
The mat is chosen to compliment the dominant colour used in the design.
After the design is sketched out, gouache pigments are used to paint the main areas of colour. Highlights and shadows are added after the main areas of paint are dry.
Using dip pens, fine details are added in Indian ink to bring the design to life and add contrast.
Finally, the artwork is backed onto mountboard, matted, and left to dry in a press.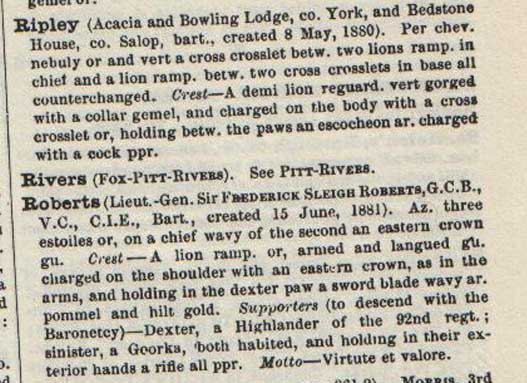 An excerpt from Burke's General Armory.
This, along wth other reference works such as Reitstap's Armorial is the starting point for the coat of arms. Amazingly, the language of Blazon tells the artist eveything he or she needs to know; the colours, positions, symbols...in a precise and concise way.
Details and Paint Effects.
Here you can see a detail from the Hobbs Family Arms. Traditionally, golds, silvers and other metals, such as used to depict iron and bronze, are rendered using skillful combinations of colours, not metallic paints. This use of colour can more accurately depict the burnished golds and other metals than the usage of flat areas of metallic paints, that also tend to dominate a finished piece.
More Effects and Styles
As well as mimicking metallic items, the heraldic artist also seeks to achieve a sense of depth. This can be seen in the lining of the helmet, above and on the chevron below. Lighter and darker hues of the base colour are used to create the 3D effect.
The overall style of heraldry changed over the centuries, as decorative fashions came and went. Medieval heraldry was plain and in some cases naive, whilst during the Baroque period
heraldic designs became almost overwhelmed by fussy embellishments. The style most favoured today takes elements from the Neo Classical period, which balances a cleanness of style with a balanced amount of decoration and flourish.