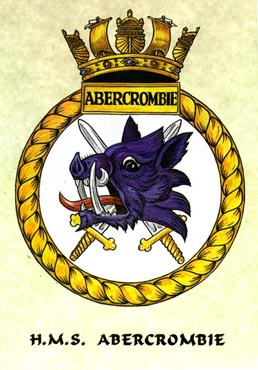 I hold records of the vast majority of U.K and U.S. ships badges, both official and unofficial. They can be ordered in any size you require, the standard size being A4.
I hold a current licence, C2009000889, to legally reproduce crown-copyright designs of ship badges.
I offer Ships Badges in two styles, painted in gouache and inked onto parchment as top left (HMS Abercrombie) or painted in watercolours on pressed, acid free board as in the example top right (Afridi). Both are matted (mounted) in a suitable colour. Below are some examples of ships badges I have produced for various naval War Veterans Associations.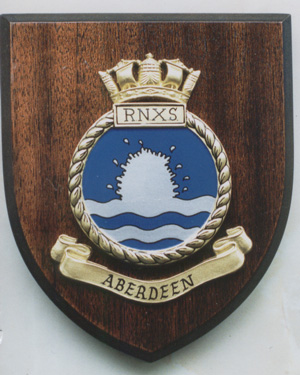 Royal Naval Auxiliary Service branch badge. 'Aberdeen'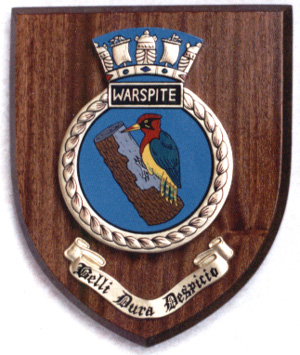 Old style badge of the 'Grand Old Lady', the battleship 'HMS Warspite'. This is the unofficial crew-designed badge favoured by many of those who served on her.
Badge of the WW2 inshore minesweeper 'Aveley'.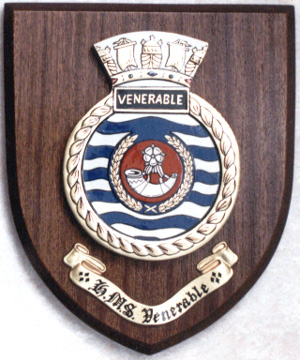 Old style 'HMS Venerable' badge, for the association.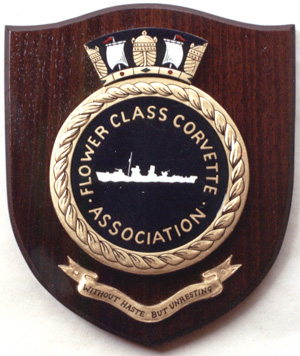 Large presentation plaque commissioned by the founder of the Flower Class Corvette Association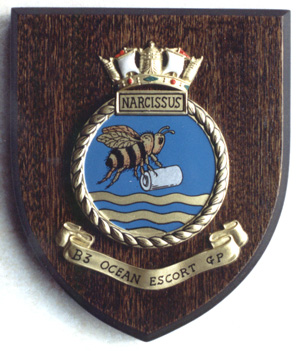 HMS Narcissus, WW2 B3 Ocean Escort Group Flower Class Corvette
Old style badge of HMS Lion, WW1 Battlecruiser
Old style badge of HMS Armada, Battle Class Destroyer
HMS Warspite, oil on canvas board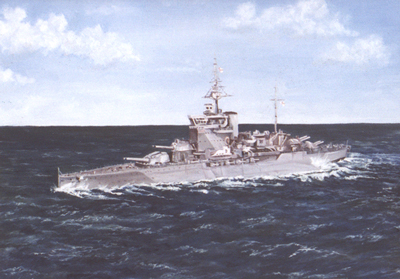 Commissioned by the HMS Warspite Association and presented to Admiral Sir Charles Madden at the unveiling of a memorial stone to commemorate the final resting place of the "Grand Old Lady" on September 25th, 1992 at Marazion, Cornwall.